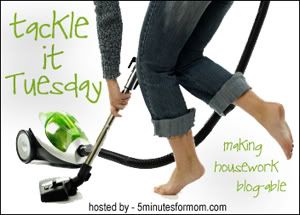 So, here's another great blog that I love to read that covers all the bases! Over at 5 Minutes for Mom, they cover the gammet of making Mommyhood fun and blogable. I've been reading posts from Tackle it Tuesday for several months now and in my attempt to be better at blogging in 2009, I decided to join in on this weekly adventure.

Now, my friends know that I'm very organized, but although I'm organized, that doesn't mean that the rest of my family shares my organizational obsession enthusiasm! So, here's my tackle for the week, our resident JUNK DRAWER!
This tiny little drawer drives me CRAZY! This before shot is actually pretty decent because I had pulled some stuff out earlier in the week but it truly is a magnet for all of the stuff that no one seems to know where it came from. It's a small drawer but I cringe every time I open it because I feel like it's mocking me...how could this small area always get messes up. So, I decided that I was going to just do it and show the drawer who's boss! So, here's the finished product:
Although it looks simple, it had been driving me crazy and the before picture doesn't really do it justice since I had taken out quite a bit of stuff to throw out prior to the picture being taken. However, I accomplished my goal and now I have proof that it can be clean and tidy...no matter what my men do to it! It's not the size of the tackle, just the follow through that counts!
Next week, I take on the upstairs!